Plaça de Catalunya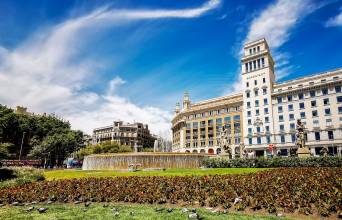 Plaça de Catalunya Plaça de Catalunya (pronounced [ˈplasə ðə kətəˈluɲə], meaning in English "Catalonia Square"; sometimes referred to as Plaza de Cataluña, its Spanish name) is a large square in central Barcelona that is generally considered to be both its city centre and the place where the old city (see Barri Gòtic and Raval, in Ciutat Vella) and the 19th century-built Eixample meet.
Some of the city's most important streets and avenues meet at Plaça Catalunya: Passeig de Gràcia, Rambla de Catalunya, La Rambla, and Portal de l'Àngel, in addition to Ronda de Sant Pere, Carrer de Vergara, and Carrer de Pelai. The plaza occupies an area of about 50,000 square metres.
It is especially known for its fountains and statues, its proximity to some of Barcelona's most popular attractions, and the flocks of pigeons that gather in the centre.