El Yunque National Forest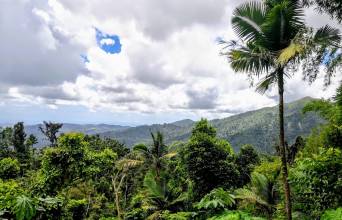 El Yunque National Forest El Yunque National Forest (Spanish: Bosque Nacional El Yunque), formerly known as the Caribbean National Forest (or Bosque Nacional del Caribe), is a forest located in northeastern Puerto Rico. It is the only tropical rain forest in the United States National Forest System and the United States Forest Service.
This forest is commonly known as El Yunque, which may be attributed to either a Spanish approximation of the aboriginal Taíno word yu-ke which means "white lands", or the word "anvil," which is yunque in Spanish. The second-tallest mountain within El Yunque is also named El Yunque.
El Yunque National Rainforest is located on the slopes of the Sierra de Luquillo mountains, encompassing 28,000 acres (43.753 mi2 or 113.32 km2) of land, making it the largest block of public land in Puerto Rico. The highest mountain peak in the forest rises 3,494 feet (1,065 m) above sea level.
Ample rainfall (over 20 feet a year in some areas) creates a jungle-like setting—lush foliage, crags, waterfalls, and rivers are a prevalent sight. The forest has a number of trails from which the jungle-like territory's flora and fauna can be appreciated.
El Yunque is also renowned for its unique Taíno petroglyphs. Indigenous people believed that El Yunque was the throne of their chief god Yúcahu, so that it is the Caribbean equivalent to Mount Olympus. El Yunque National Rainforest is currently partially closed until further notice due to Hurricane Maria.