Frogner Park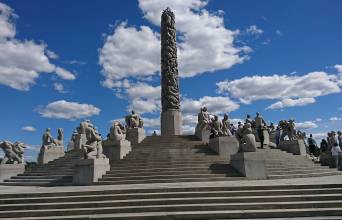 Frogner Park Frogner Park (Norwegian: Frognerparken) is a public park located in the borough of Frogner in Oslo, Norway, and is historically part of Frogner Manor. The manor house is located in the south of the park, and houses the Oslo City Museum. Both the park, the entire borough of Frogner as well as Frognerseteren derive their names from Frogner Manor.
Frogner Park contains, in its present centre, the Vigeland installation (Norwegian: Vigelandsanlegget; originally called the Tørtberg installation), a permanent sculpture installation created by Gustav Vigeland between 1924 and 1943. Although sometimes referred to in English as the "Vigeland (Sculpture) Park," the Vigeland installation is not a separate park, but the name of the sculptures within Frogner Park.
The sculpture park consists of sculptures as well as larger structures such as bridges and fountains. The park of Frogner Manor was historically smaller and centered on the manor house, and was landscaped as a baroque park in the 18th century by its owner, the noted military officer Hans Jacob Scheel.
It was landscaped as a romantic park in the 19th century by then-owner, German-born industrialist Benjamin Wegner. Large parts of the estate were sold to give room for city expansion in the 19th century, and the remaining estate was bought by Christiania municipality in 1896 and made into a public park.
It was the site of the 1914 Jubilee Exhibition, and Vigeland's sculpture arrangement was constructed from the 1920s. In addition to the sculpture park, the manor house and a nearby pavilion, the park also contains Frognerbadet (the Frogner Baths) and Frogner Stadium.
The Frogner Pond is found in the centre of the park. Frogner Park is the largest park in the city and covers 45 hectares; the sculpture installation is the world's largest sculpture park made by a single artist. Frogner Park is the most popular tourist attraction of Norway, with between 1 and 2 million visitors each year, and is open to the public at all times.
Frogner Park and the Vigeland installation (Norwegian: Frognerparken og Vigelandsanlegget) was protected under the Heritage Act on 13 February 2009 as the first park in Norway.