Telok Ayer Market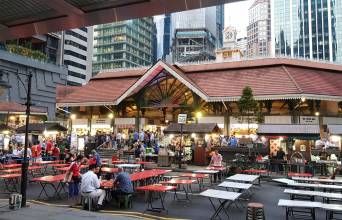 Lau Pa Sat Lau Pa Sat from above Lau Pa Sat (Chinese: 老巴刹; pinyin: Lǎo Bāshā; literally: 'Old Market'), also known as Telok Ayer Market (Malay: Pasar Telok Ayer; Chinese: 直落亚逸巴刹), is a historic building located within the Downtown Core in the Central Area of Singapore.
It was first built in 1824 as a fish market on the waterfront serving the people of early colonial Singapore and rebuilt in 1838. It was then relocated and rebuilt at the present location in 1894. It is currently a food court with stalls selling a variety of local cuisine.
The market remains one of the oldest Victorian design structure in South-East Asia and one of the first structure built in pre-fabricated cast iron in Asia. It is also the only remaining market left that served the residents in the central district of early Singapore.