Singapore Botanic Gardens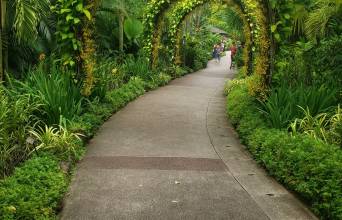 Singapore Botanic Gardens The Singapore Botanic Gardens is a 161-year-old tropical garden located at the fringe of Singapore's Orchard Road shopping district. It is one of three gardens, and the only tropical garden, to be honoured as a UNESCO World Heritage Site.
The Botanic Gardens has been ranked Asia's top park attraction since 2013, by TripAdvisor Travellers' Choice Awards. It was declared the inaugural Garden of the Year, International Garden Tourism Awards in 2012, and received Michelin's three-star rating in 2008.
The Botanic Gardens was founded at its present site in 1859 by an agri-horticultural society. It played a pivotal role in the region's rubber trade boom in the early twentieth century, when its first scientific director Henry Nicholas Ridley, headed research into the plant's cultivation.
By perfecting the technique of rubber extraction, still in use today, and promoting its economic value to planters in the region, rubber output expanded rapidly. At its height in the 1920s, the Malayan peninsula cornered half of the global latex production.
The National Orchid Garden, within the main gardens, is at the forefront of orchid studies and a pioneer in the cultivation of hybrids, complementing the nation's status as a major exporter of cut orchids. Aided by the equatorial climate, it houses the largest orchid collection of 1,200 species and 2,000 hybrids.
Early in the nation's independence, Singapore Botanic Gardens' expertise helped to transform the island into a tropical Garden City, an image and moniker for which the nation is widely known. In 1981, the hybrid climbing orchid, Vanda Miss Joaquim, was chosen as the nation's national flower.
Singapore's "orchid diplomacy" honours visiting head of states, dignitaries and celebrities, by naming its finest hybrids after them; these are displayed at its popular VIP Orchid Gardens.The Singapore's Botanic Gardens is opened from 5 a.m. to 12 midnight daily.
There is no admission fee, except for the National Orchid Garden. More than 10,000 species of flora are spread over its 82-hectares area, which is stretched vertically; the longest distance between the northern and southern ends is 2.5 km (1.6 mi). The Botanic Gardens receives about 4.
5 million visitors annually.