Taman Mini Indonesia Indah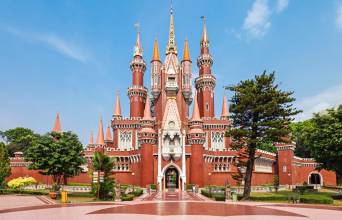 Taman Mini Indonesia Indah The iconic golden snail at Taman Mini Indonesia Indah Taman Mini "Indonesia Indah" (TMII) (Indonesian for "Beautiful Indonesia" Miniature Park) is a culture-based recreational area located in East Jakarta, Indonesia. It is operated by Yayasan Harapan Kita, a foundation established by Siti Hartinah, the first lady during most of the New Order and wife of Suharto, and still run by Suharto's descendants since his death.
It has an area of about 100 hectares (250 acres). The park is a synopsis of Indonesian culture, with virtually all aspects of daily life in Indonesia's 26 (in 1975) provinces encapsulated in separate pavilions with the collections of rumah adat as the example of Indonesian vernacular architecture, clothing, dances and traditions are all depicted impeccably.
Apart from that, there is a lake with a miniature of the archipelago in the middle of it, cable cars, museums, Keong Emas Imax cinema, a theater called the Theatre of My Homeland (Theater Tanah Airku) and other recreational facilities which make TMII one of the most popular tourist destinations in the city.
Since 2007 Taman Mini Indonesia Indah launched new logo with branding slogan Pesona Indonesia ("Indonesian Charm"). On December 31, 2014 World Peace Committee decided TMII as International Civilization Park and World Peace Theme Park.