Gardens of the World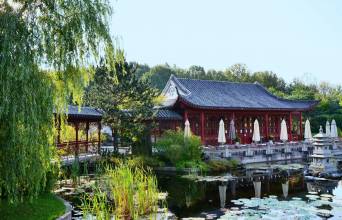 Gardens of the World Gardens of the World is a botanical garden in Thousand Oaks, California. It is located at Thousand Oaks Boulevard, directly across the street from Thousand Oaks Civic Arts Plaza. Established in 2001, the park was given to the city by the owners of a local travel agency.
It is home to a French garden and waterfall, English rose garden, Italian grapevine garden and a Japanese garden with koi ponds and a pagoda. The park is used for hiking and picnicking, and guided tours of the gardens are available. Its Californian Mission Courtyard is home to native California flora and murals of the remaining 21 California Missions.
It is also a statue of Father Junipero Serra in this part of the park. The botanical garden is 4,5 acres.