Manneken Pis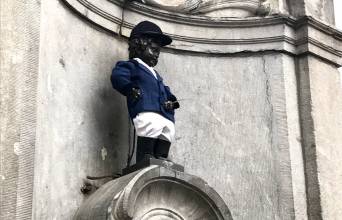 Manneken Pis Manneken Pis (pronounced [ˌmɑnəkə(m) ˈpɪs] ; Dutch for '"Little Pissing Man"') is a landmark 61 cm (24 in) bronze fountain sculpture in the centre of Brussels (Belgium), depicting a naked little boy urinating into the fountain's basin. It was designed by Jérôme Duquesnoy the Elder and put in place in 1618 or 1619.
The current statue is a replica which dates from 1965. The original is kept in the Brussels City Museum. Manneken Pis is the best-known symbol of the people of Brussels. It also embodies their sense of humour (called zwanze in the dialect of Brussels) and their independence of mind.
Manneken Pis is located only five minutes' walk from the Grand Place, at the junction of Rue du Chêne/Eikstraat and the pedestrian Rue de l'Étuve/Stoofstraat. This site is served by the premetro station Bourse/Beurs (on lines 3 and 4) and the bus stops Grand Place/Grote Markt and Cesar de Paepe.