Darling Harbour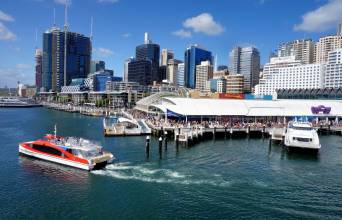 Darling Harbour Darling Harbour at dusk A view of Darling Harbour from Sydney Tower on Feb 16, 2019 Darling Harbour is a harbour adjacent to the city centre of Sydney, New South Wales, Australia that is made up of a large recreational and pedestrian precinct that is situated on western outskirts of the Sydney central business district.
Originally named Long Cove, the locality extends northwards from Chinatown, along both sides of Cockle Bay to King Street Wharf 3 on the east, and to the suburb of Pyrmont on the west. Cockle Bay is just one of the waterways that makes up Darling Harbour, which opens north into the much larger Port Jackson.
The precinct and its immediate surroundings are administered independently of the local government area of the City of Sydney, by Property NSW.