ANZ Stadium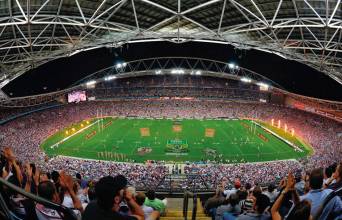 Stadium Australia Stadium Australia, commercially known as ANZ Stadium, is a multi-purpose stadium located in the Sydney Olympic Park, in Sydney, Australia. The stadium, which in Australia is sometimes referred to as Sydney Olympic Stadium, Homebush Stadium or simply the Olympic Stadium, was completed in March 1999 at a cost of A$690 million to host the 2000 Summer Olympics.
The Stadium was leased by a private company the Stadium Australia Group until the Stadium was sold back to the NSW Government on 1 June 2016 after NSW Premier Michael Baird announced the Stadium was to be redeveloped as a world-class rectangular stadium. The Stadium is owned by Venues NSW on behalf of the NSW Government.
The stadium was originally built to hold 110,000 spectators, making it the largest Olympic Stadium ever built and the second largest stadium in Australia after the Melbourne Cricket Ground which held more than 120,000 before its re-design in the early 2000s.
In 2003, reconfiguration work was completed to shorten the north and south wings, and install movable seating. These changes reduced the capacity to 83,500 for a rectangular field and 82,500 for an oval field. Awnings were also added over the north and south stands, allowing most of the seating to be under cover.
The stadium was engineered along sustainable lines, e.g., utilising less steel in the roof structure than the Olympic stadiums of Athens and Beijing.